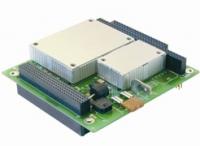 The Eurotech ACS-5125 is a 25W isolated power supply module designed to meet the system requirements of military vehicle, aircraft, machine or vessel installations. The module supplies +5V @ 5A with overload protection and without any de-rating.
The ACS-5125 features a DC/DC converter that provides for well-controlled outputs with no overshoot and control functions such as voltage trim, remote sense and inhibit. It can also generate an over temperature warning signal that gives user control over the temperature shutdown function of the converter via an I2C interface.
In addition, the power supply construction allows for the EMI filter, DC/DC converter and the heat dissipating protection devices to be mounted on the top or on the bottom side of the board. This allows for the maximum configuration flexibility when integrating the ACS-5125 in a system and easily supports the use of structural heat sinking enabling reliable temperature operation (-40 to +85 °C) without any active cooling.
Onboard filtered DC/DC converter
Onboard Digital Temperature sensor (National Semiconductor LM75) via an I2C interface
Over temperature shutdown at 102°C
Optional Mechanical adaptations for different system configurations
Wide input range: +15.5 to +40V DC (50V DC for 1s)
Outputs: single +5V, overload protected