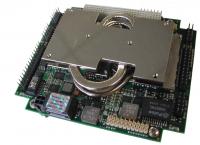 The ADL945PC is based on the Intel® Core®2 Duo / Core®Duo / Core®Solo Processors, with clock speeds up to 2.16GHz, and the Intel® 945GM chipset. The Intel® Generation 3.5 graphics engine is integrated into the chipset, along with the Intel® Graphics Media Accelerator 950 (Intel® GMA 950), and can drive either a CRT and/or LVDS LCD.
The memory is added by way of a SODIMM200 socket and can accept up to two Gigabytes of DDR2 DRAM. The ADL945PC power management incorporates ACPI/APM functions. The standard ADL945PC also incorporates PCI/104 Bus, EIDE, 4xUSB 2.0, 2xRS232 COM ports, PS/2 Keyboard and Mouse, parallel printer, AC97 Sound, separate 10/100Mbit and Gigabit LAN, and more.
ADL offers highly effective active and passive cooling solutions based on proven thermal data and mounting techniques; resulting in the least possible mechanical board stress. Please contact your Sales Engineer for detailed information on cooling solutions to fit your needs.
Intel® Core®2 Duo / Core®Duo / Core®Solo
1.0GHz - 2.16GHz
Power Management
256MB - 2048MB DDR2-DRAM
CRT / LCD interface on-board
10/100 Base-T LAN-Ethernet
1000 Base-T LAN-Ethernet
6x USB2.0 Ports
PATA Hard Disk Interface
COM1, COM2, LPT1
RTC and Watchdog Timer
Non Volatile Setup Save
Single 5VDC Power Supply
2x SATA