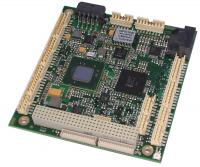 The ADLD25PC features the Intel Atom D525 processor which is designed for a two-chip platform as opposed to the traditional three-chip platforms requiring a CPU, GMCH and ICH. The Atom D525 processor accomplishes this by locally integrating the graphics and memory controller functions of a traditional GMCH. The processor interfaces to the ICH9M-E, which is also used on the ADLGS45PC and provides similar PCI/104-Express I/O bandwidth necessary to enable performance-based rugged, portable and thermally constrained applications. The D525 have an Intel rated Thermal Design Power (TDP) maximum of 10 to 13 Watts; and an Intel idle TDP of 4 to 4.8 Watts. TDP refers to how much heat annotated in Watts a thermal solution must be able to dissipate while keeping the processor below its maximum die temperature.
The ADLD25PC is ideal for rugged and mobile applications where power consumption is critical. These jobs include deeply embedded enclosures for industrial applications, as well as rugged portable applications such as transceivers for tactical communication, GIS mapping, night vision applications, railway and other applications that often use battery-type power sources. Wireless and GPS applications are enabled via the PCIe Mini socket.
In addition to the wide range of rugged, extended temperature or harsh environment applications in which the ADLD25PC can excel, it also supports a healthy set of features. The ADLD25PC has a discrete 16-bit digital I/O port as well as a separate LPT port. The ADLD25PC also has four COM ports. While two of the ports support RS232, the other two are configurable to RS232 or 4-wire RS422/485. 2x SATA with RAID support, 8x USB2.0, and bottom-stacking PCI express 4 x1 lanes are just a few of the available features.
Intel Atom Dual Core Processor D525, 1.80GHz
Up to 4GB DDR3-800 DRAM SoDIMM204
Bottom-Stacking PCI/104 Express 4 x1 Lanes
2x SATA 300 Ports
1x 10/100/1000Mbit Ethernet LAN Port
4x COM Ports - 2x RS232 Ports, 2x RS232/422/485 Ports
8x USB2.0 Ports, Onboard VGA and LVDS Ports
Hardware Monitor, Watchdog Timer
Optional PCIe Mini Socket
Windows XP, Windows CE
7.1 HD Audio, 16bit GPIO Port
Operating Range -25° to +70° C (-40° to +85° C available - call sales for details )
90mm x 96mm PC/104 Form Factor