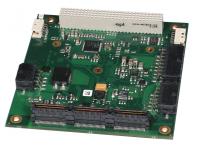 The ADLPS104ISO-150 power supply board is designed to meet the needs of high-powered Intel® Core™ industrial and embedded motherboards by providing robust ATX voltages (5V, 5VS, 3.3V, 12V) in a stackable PCI/104-Express form factor designed for operation at 150W. Its small (90mm x 96mm) footprint allows it to fit in many space limited applications. As well, the ADLPS104ISO-150 provides up to 500V of galvanic isolation from dirty power and unwanted transients. The ADLPS104ISO-150 features ATX compliant signaling to allow ACPI/APM power management from within compliant operating systems.
The ADLPS104ISO-150 boasts an MTBF >600,000hrs and is tailored for long-life embedded applications with more than enough headroom for inrush startup currents, and quiescent operation with our wide range of high-performance SBCs and multiple peripheral cards. A small, 1"x2" MIL-STD 704-1275/461 MILCOTS input filter option enables use on military avionics, ground vehicles and EMI-sensitive applications.
PCI/104-Express Form Factor (90mm x 96mm)
MTBF > 600,000 hrs.
Two Variants Available: ADLPS104ISO-150-5: Input: 7-30V, Output: 5V, 5VS, 3.3V & ADLPS104ISO-150-12: Input: 14-30V, Output: 5V, 5VS, 3.3V, 12V
MIL-STD 704/1275/461 MILCOTS Filter Option; 120W max.; 1" x 2" x .4" including mounting plate.
Input Protection: Overcurrent; Overvoltage; Undervoltage; Surge; Reverse Voltage
Output Protection: Voltage Out of Range (Monitored via PWRGD); Short-Circuit
Galvanic Isolation: 500V (Generalized)
Temperature Range: -25C to +70C; 150W max. with Thermal Solution
Temperature Range: -40C to +85C; Derated to 120W max. with Thermal Solution.