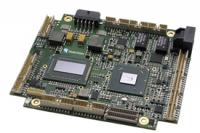 The ADLQM67PC-3517UE features the 3rd generation Intel Core™ i7 processor that incorporate Intel's QM67 embedded two-chip platform. This 3rd generation i7 processor integrates Intel's HD Graphics 4000 engine with AVX2 (Advanced Vector Extensions) as well as the memory controller functions of a traditional GMCH. The 3rd generation Intel Core i7-3517UE processor has a 17W TDP and a higher performance/watt than any previous 2nd generation Intel Core embedded processor.
The ADLQM67PC-3517UE is ideal for rugged applications where high processor performance is critical. It brings unparalleled performance to applications such as radar and sonar processing, image signal processing, tactical command and control, surveillance and reconnaissance, transportation and railway.
In addition to the wide range of rugged and harsh environment applications in which the ADLQM67PC-3517UE can excel, it also supports a healthy set of features. The ADLQM67PC-3517UE has a discrete 16-bit digital I/O port as well as separate VGA, LVDS, HDMI and Display Port interfaces. The ADLQM67PC-3517UE also has 2x RS232 COM ports, 2x SATA 6Gb/s with RAID support, 8x USB2.0, two bootable Gigabit Ethernet LAN, HDA 7.1, and type 1 bottom-stacking PCIe/104 V2.01 supporting Gen2 throughput of 5 GT/s are just a few of the available features.
ADL Embedded Solutions offers highly effective active and passive thermal solutions designed for this product. Contact your sales representative for more information.
Gen3 Intel® Core™ i7-3517UE, 1.7 GHz (Turbo up to 2.80 GHz)
Up to 8GB DDR3-1066/1333 DRAM SoDIMM204
Type 1 Bottom-Stacking PCIe/104 V2.01 with Gen2 Protocol (2.5 to 5 GT/s)
2x SATA 600 Ports with RAID
2x 10/100/1000 Mbit Ethernet LAN Port
2x RS232 COM Ports, 8x USB2.0 Ports
Separate Onboard VGA, LVDS, HDMI / DVI, Display Port
Dual Independent Displays
Hardware Monitor with API
ADL-SST (System Sensor Technology)
Watchdog Timer
Windows XP, XPe, Windows 7, Compact Embedded Support
Linux Compatible
Discrete 16bit GPIO Port
7.1 HD Audio with SPDIF In/Out