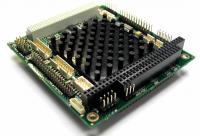 The ADLS15PC PC/104-Plus is based on the Intel® Atom® and the Intel® US15W (Poulsbo®) chipset. The Intel® Atom® is a single core processor built on a 45nm process that boasts an impressive 2.64 watts TDP. The Intel® Atom® delivers the benefits of genuine Intel® architecture to small form factor and thermally constrained markets. The Intel® US15W System Controller Hub (SCH) incorporates all functions of legacy GMCH and ICH architectures into a single die.
The ADLS15PC takes advantage of these features by delivering high performance and low thermals in a compact PC/104-Plus form factor. The Intel® graphics controller drives a CRT to 1600×1200@60Hz and/or 18/24 bit LVDS LCD. Memory is added via an SODIMM200 socket that will accept up to 2GB of DDR2-400/533 DRAM. In addition to ACPI/APM functions, EIDE, 8xUSB 2.0, 2xRS232 COM ports, PS/2 Keyboard and Mouse, LPT, AC97 Sound, 10/100/1000MBit LAN and more, the ADLS15PC also comes equipped with up to 4GB onboard SSD.
ADL offers very effective active and passive thermal solutions designed for this product. Contact your sales representative for more information.
Intel® Atom®
1.1GHz - 1.60GHz
Intel® SCH US15W Chipset
Power Management
Up to 2GB DDR2-DRAM
CRT / LVDS Interface Onboard
10/100/1000 Base-T Ethernet
8x USB2.0 Ports
PATA Storage Interface
COM1, COM2, LPT1
SM Bus Interface
RTC and Watchdog Timer
High Definition Audio
Up To 4GB Onboard SSD
PC/104 -Plus embedded form factor