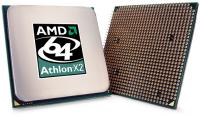 A performance and power balance for embedded systems
The performance demands on embedded systems are increasing, and AMD Athlon® and AMD Athlon X2 dual-core processors provide unique features and high performance for high-end and more traditional embedded designs.
Based on the award-winning AMD64 technology with Direct Connect Architecture, the AMD Athlon family of processors provides a balanced foundation for storage, telecommunications, point-of-sale, networking, military, imaging, and gaming systems, as well as other traditional embedded markets like single-board computing and industrial control.
AMD64 technology delivers a balanced approach to raw processing power, memory performance, I/O throughput, and scalability. Add 32- and 64-bit application support with native multi-core computing in a consistent thermal envelope and many embedded designers are finding their next-generation systems deliver record-breaking application performance.
The innovation of AMD64, the ease of x86, the choice for embedded systems
In addition to performance, AMD Athlon and AMD Athlon X2 dual-core processors for the embedded market are NEBS-friendly and offer Error Correcting Code (ECC) to help deliver reliability and secure data transactions for embedded systems. Innovations like AMD Virtualization® technology can help customers maximize server efficiency, while AMD's Torrenza initiative is designed to make it easy to incorporate application-specific FPGAs or co-processors directly onto the AMD64 platform.
AMD is committed to providing our embedded customers with choices, and designing on the industry-standard x86 platform provides access to thousands of software, hardware, and development tools. AMD processors are compatible with the major Microsoft® Windows® operating systems as well as Linux. Our goal is allowing you maximum opportunity to design the embedded system you envision and your customers demand.
To learn more go to www.amd.com/embedded