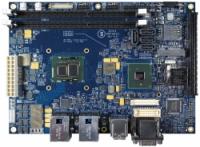 The ANTARES is a 5.25″ single board computer based on the new Mobile Intel QM57 Express Chipset. Designed to offer high performance with low power dissipation, the ANTARES is available with Intel Core i7 or Core i5 processor options and is ideal for use in compact spaces with restricted ventilation.
raditional embedded system requirements are well catered for with features such as Watchdog, GPIO, four serial ports, an integrated SD/MMC Flash port for accessing storage cards and Mini PCIe expansion for wireless modules such as Wi-Fi, Bluetooth and cellular modems. Features such as virtualisation, hyperthreading, remote system management via Intel's AMT feature (available even if the operating system has crashed), provide solutions for many of the key issues being considered in newer embedded designs. Coupled to a wide operating temperature range, options for fanless operation, and long term chipset support, the ANTARES embedded PC is ideal for applications in commercial, industrial and transportation projects requiring high performance computing within a rugged and reliable platform.
The ANTARES is supported by rapid application Development Kits for Windows Embedded Standard, Windows 7 and Fedora Linux.
High performance Intel Core i7/Core i5
Low power consumption with fanless option
Support for virtualisation & remote management
Dual PCI Express MiniCard expansion with SIM support
Support for up to 2 simultaneous independent displays