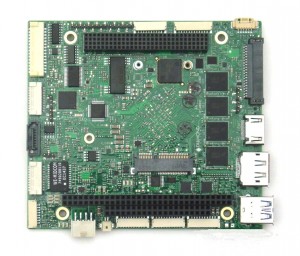 The Aries PC/104-Plus single board computer from Diamond Systems uses the Intel "Bay Trail" E3800 series processor to deliver an unmatched combination of performance, price and power consumption. Packed with real-world features, Aries provides a complete solution for most embedded applications in a single board, saving you space, time, and money.
Aries goes beyond the standard processor and I/O features found on other Bay Trail SBCs to provide rugged performance along with a professional-quality data acquisition circuit supported by industry-leading software. The full rectangular shape of Aries provides more PCB area and coastline to support the extreme level of I/O offered by the board.
The Aries SBC family features the Intel E3800 "Bay Trail" processor family for high performance, low power consumption, and competitive pricing. Aries offers 2-4 times higher CPU performance over other SBCs with similar size, power consumption, and price. Key features include:
Choice of quad core E3845 1.91GHz or dual core E3826 1.46Ghz processor
2 or 4GB memory soldered on board
Dual independent display, selectable from VGA, LVDS LCD, and HDMI / DisplayPort
A broad range of system I/O, including 4 multiprotocol serial ports, 3 USB ports, 2 10/100/1000 Ethernet ports, and 1 SATA port
Integrated HD Audio
PC/104-Plus and PCIe MiniCard / mSATA sockets
Optional integrated professional quality 16-bit data acquisition
Conduction cooling for improved reliability and high temperature performance
Rugged construction throughout for shock and vibration immunity
Compact 4.5″ x 4.0″ size
-40°C to +85°C operation off the shelf
Operating systems support for Windows 7 / XP and Linux 2.6 / 3.2 kernels
Aries supports dual simultaneous independent displays, selecting from VGA, LVDS LCD, and either HDMI or DisplayPort. The LVDS connection is dual channel 24-bit. The maximum resolution of VGA, LVDS and DisplayPort is 2560 x 1600. The HDMI maximum resolution is 1920 x 1080.
Aries provides both a PC/104-expansion socket and a combination PCIe MiniCard / mSATA module socket. The combination socket auto-selects for either PCIe or mSATA depending on the type of module installed. Aries supports Diamond's complete line of PCIe MiniCards.
The SBC also supports the installation of a SATA disk-on-module with a mounting hole for increased ruggedness. A jumper provides power directly to the module through the single SATA connector; no separate power cable is required. Both the SATA DOM and PCIe MiniCard sockets can be used simultaneously, affording a highly compact and feature-rich embedded computing solution only one "board" high.
Aries' A/D circuit includes 16 single-ended / 8 differential analog input channels with programmable input ranges and a maximum aggregate sampling rate of 250KHz. The D/A circuit consists of 4 16-bit D/A voltage outputs with independently programmable output ranges including 0-10V, +/-10V, 0-5V, and +/-5V. A 2048-sample waveform buffer is included to support arbitrary waveform generator functions on up to 4 channels simultaneously. The digital I/O circuit consists of GPIO, counter/timers, and pulse-width modulators. The GPIO circuit provides 22 buffered digital I/O lines, consisting of one 8-bit port and 14 1-bit ports