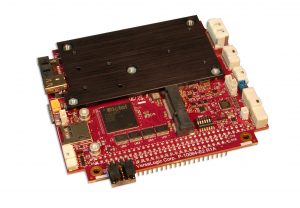 The BayCat is a low-power / high-performance single board computer (SBC) with a traditional PC/104-Plus expansion interface.   This combination makes it easy to upgrade existing systems to a powerful 4th generation Atom processor, while preserving plug-in expansion to existing specialty I/O boards. In addition, it also contains a full complement of on-board I/O interfaces, including USB 3.0, mini PCIe expansion socket, TPM chip, and a 24 bit digital I/O port.
Driven by the low power E3800 (Bay Trail) processor, with clock rates up to 1.9 GHz, the BayCat features quad, dual, and single-core processor options. Based on the industry-standard PC/104™ format (4.2 x 3.8 inches), this SBC is an excellent solution for size, weight and power (SWaP) sensitive applications.
BayCat is built on the PC/104 form factor. It includes legacy ISA and PCI connectors to interface directly with PC/104-Plus plug-in boards.
As with all VersaLogic products, the BayCat is designed to support OEM applications where high reliability  and long-term availability are required. From application design-in support, to its 10+ year extended life programs, the BayCat provides a durable embedded computer solution with an excellent cost of ownership.
Intel Atom "Bay Trail" Processor: Up to 1.9 GHz clock rate. Quad, dual or single core options. Low power consumption.
Integrated Intel Gen 7 graphics core supports DirectX 11, OpenGL 3, and H.264, MPEG-2 encoding/decoding. Analog and Dual mini DisplayPort video outputs; both outputs support multiple display modes including Extended Desktop and Clone.
Trusted Platform Module: On-board TPM security chip can lock out unauthorized hardware and software
RAM: Up to 16 GB DDR3L socketed memory, one SO-DIMM
Two Ethernet interfaces, autodetect 10BaseT / 100BaseTX / 1000BaseT with remote boot support
One USB 3.0 port and four USB 2.0 ports support keyboard, mouse, and other devices. Two RS-232/422/485 serial ports, three 8254 timer/counters, I2C, PWM output, and audio support
Twentry four 3.3V digital I/O lines
3 Gb/s SATA port supports bootable SATA hard drive
SPI/SPX: Add low cost analog, digital, and CANbus modules. SPI/SPX interface supports up to four external devices
Main Power Input: 5V Input ±5%
PC/104-Plus Expansion
-40° to +85°C operation for harsh environments
MIL-STD-202G Qualified for high shock/vibration operation