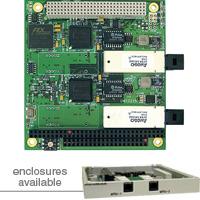 The CM17215 and CM18215 are dual channel Ethernet modules. They offer two 100Mb MT-RJ fiber optic ports.
Each Ethernet channel has its own controller, and operates independently. An onboard PCI-to-PCI bridge allows the board to only require one PCI slot.
The boards use the popular Intel 82551IT Ethernet controller, which is well supported by modern operating systems such as Windows and Linux.
Two Independent Fast Ethernet Connections
Full Duplex Support
RJ45 Twisted Pair
MT-RJ Fiber Optic
Intel 82551IT Ethernet Controller
3KB Transmit and Receive FIFOs
Intel LXT973 Ethernet PHY
Avago 1300nm Fiber Transceiver
Onboard PCI-to-PCI Bridge
Uses only one PCI slot
Status LEDs
-40C to +85C Operating Temperature
Optional rugged IDAN® enclosure system