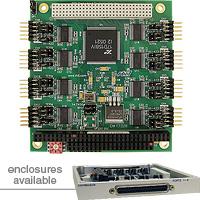 The CM310 and CM17320 bring multiple port asynchronous communications to the PC/104 platform. On either board RS232 or RS422 signaling may be configured on a port by port basis.
The CM310 hosts four independently configurable ports each having an industry standard 16C550 UART register layout.
This board also has support for multiple address configurations as well as independent interrupt generation for each port. The CM310 allows each port to be switched off if required to conserve ISA resources.
The CM17320 supports eight independent serial ports. The PCI configuration allows the ports to operate independently without using ISA resources. High speed throughput is achievable on all 8 ports due to the PCI bus and large FIFO stages. Windows and Linux drivers allow simple integration of this board into end user applications.
Compatibility with the Industry Standard 16C550
16 byte transmit FIFO/16byte receive FIFO with error flags or 64 byte in PC/104-Plus card
Independent transmit and receive control
Standard modem interface
Jumper selectable to interrupt line, base address, RS232/ RS422-485 mode per port
Jumper selectable enable/ disable per port
Eight PCI serial UART channels
32-bit PCI target
Universal (3.3V or 5.0V) PCI signaling
14.7456 MHz crystal with custom options available
Maximum Baud rates 921,600 baud RS-422/485 230, 400 baud RS-232 with standard crystal
Optional rugged IDAN® enclosure system