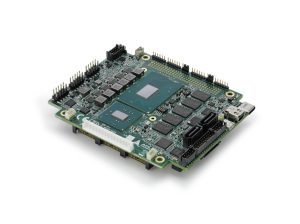 Integrated Intel® Generation 9 Graphics includes features such as OpenGL 5.x, OpenCL 2.x, DirectX 2015, DirectX 12, Intel® Clear Video HD Technology, Advanced Scheduler 2.0, 1.0, XPDM support, and DirectX Video Acceleration (DXVA) support for full HEVC/VP8/VP9/AVC/MPEG2 hardware codec. Graphics outputs include single-channel 18/24-bit LVDS (eDP x4 lanes optional) and three DDI ports supporting HDMI/DVI/DisplayPort.
The CMx-SLx is specifically designed for customers with high-performance processing graphics requirements who want to outsource the custom core logic of their systems for reduced development time.
The CMx-SLx features one mini DisplayPort (DDI1), one micro HDMI port (DDI2), and one single channel 18/24-bit LVDS port (eDP), two Gigabit Ethernet ports, four USB 2.0 ports, two COM ports, eight GPIOs (from BMC), two SATA 6Gb/s ports, and one onboard SATA SSD supporting SLC (up to 32GB) and MLC (up to 64GB). The module is equipped with an SPI AMI EFI BIOS with CMOS backup, supporting embedded features such as fail safe BIOS, remote console, CMOS backup, hardware monitor, and watchdog timer.
The CMx-SLx is capable of working in the temperature ranges of 0C~60C (standard) and -40C~85C (extended).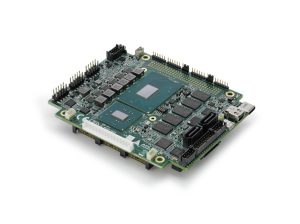 6th gen. Intel® Core™ Processor (formerly codenamed Skylake)
Up to 16GB DDR4-ECC soldered memory
3x DDI channels, 1x micro HDMI, 1x mini DP and 1x 18/24 bit single channel LVDS
4x PCIe x1 and 1x PCIe x 16 (PEG) configurable as 1x PCIe x16 or 2x PCIe x8 or 1x PCIe x8 + 2x PCIe x4
2x GbE LAN, 2x SATA 6Gb/s, 1x USB 3.1, 6x USB 2.0, 2x COM, 8x GPIO
Supports Smart Embedded Management Agent (SEMA®) functions
Extreme Rugged operating temperature -40°C to +85°C variant