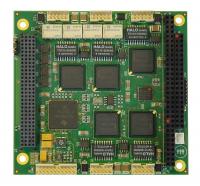 The COM-1452 is a PC/104-Plus Version 2.0 compliant communications module that features 5 Fast Ethernet ports and allows the host CPU module to perform bridging operations with the possibility to manage up to five different LANs using the Ethernet protocol. There is also a hardware bypass between Ethernet ports 1 and 2 that can be either activated via software, automatically activated when the COM-1452 is in powered off, or activated when a Watchdog signal is received from the host Eurotech CPU module. In this way, for example, it is possible to realize a crossover connection between two LANs.
The COM-1452 has the Texas Instruments PCI2060 PCI-to-PCI Bridge; this allows transactions to occur between a master on one PCI bus and a target on another by creating hierarchical PCI buses. The bridge makes it possible for the primary and secondary bus clocks to be completely asynchronous.
The small footprint design of the COM-1452 makes it easy to embed within new or existing system designs and is an ideal choice when space-constrained environments are decisive factors. The module has been designed to resist harsh environmental conditions; it is resistant to high humidity, vibrations and mechanical shocks. The module can be qualified to operate in the standard (0 to +60°C) or extended (-40 to +85°C) temperature ranges.
Five Intel® 82551 Fast Ethernet controllers
Texas Instruments PCI2060 PCI-to-PCI Bridge
Hardware bypass between Ethernet ports 1 & 2 (relays normally open)
Fully RoHS (2002/95/CE) Compliant
Interfaces: PC/104-Plus (PCI); PC/104 (ISA); Five Fast Ethernet ports; External Watchdog port; Connector for Ethernet status LEDs
Typical Applications: Network link management in transportation, defence and industrial applications that are prone to rough conditions and extremes of temperature