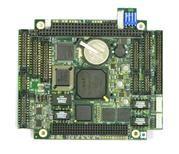 •    DM&P Vortex86DX (600 MHz) processor
•    256 MB DDR2 SDRAM
•    Two Xilinx FPGAs
•    NAND Flash 1GB
•    Ethernet controller 10/100 Mb/s
•    PC/104 slot (32-bit PCI, 16-bit ISA)
•    USB 1.1, USB 2.0 support, up to four devices connection
•    Four COM ports
•    Isolated analog input – 8 channels
•    Isolated analog output – 2 channels
•    ADC, DAC
•    Shock/vibration 100G/10G (IEC 68-2-27-87; IEC 68-2-6-82)
•    Industrial operating temperature range: –40°C to +85°C (IEC 68-2-14-84)
•    Protective coating (option)
Fastwel CPC306 is designed for applications requiring industrial controller with low power and compact size but capable to run in industrial environments.
CPC306 complies to PC/104-Plus® specification and compatible with high number of PC/104 peripheral modules, power supplies and cages available from various vendors worldwide.
Empowered by x86 compatible Vortex® 86DX family systemonchip, CPC306 offers quick software development under DOS, Linux, Windows or QNX operating systems. High performance CPU core with
frequency 600 MHz and 256 MB of DDR2 SDRAM provides sufficient computational resources for majority of controller applications.
Integrated Ethernet channel, four COM ports and high number of digital and analogues inputoutputs ports give developers an excellent set of interconnects to the sensors, slave devices and host systems. Four USB 2.0 and LPT ports give CPC306 connectivity to various devices from PC environments.
Full 16-bit ISA bus support ensures expansion capability of CPC306 with legacy periphery modules and power supplies, while 32-bit PCI provides interconnect for mainstream expansion modules.
CPC306 has onboard CF and EIDE interfaces, providing developers a choice of storage media to be used with.
With all components soldered on board CPC306 withstands vibration up to 10g, shock up to 100g and operates within industrial temperature range of -40…+85°C.
For development purpose and for application requiring graphical output, CPC306 can work together with Fastwel VIM301– PC/104Plus compatible board empowered by embedded GPU from Silicon Motion® – Linx3DM8+ with set of video interfaces comprising of 2 LVDS, 2 TFT, one CRT and one EL.
DM&P Vortex®86DX, 800 MHz CPU
16-bit ISA and 32-bit PCI buses
128/256 MB DDR2 SDRAM soldered
IDE, CF Type I/II
Fast Ethernet 10/100 Mb/s
Four USB ports (USB 1.1, USB 2.0)
72 channels of Digital I/O
8/2 channels of Analog I/O
Shock/vibration resistance: 100g/10g
Operating temperature range: -40C...+85C