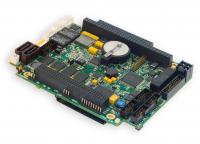 •    Intel Atom N450/D510, 1.66 GHz CPU
•    DDR2 SDRAM 667 MHz , 512 MB / 1 GB, 64-bit addressing, soldered
•    4 GB NAND Flash
•    SATA interface: 50 MB/s read, 45 MB/s write
•    2D/3D accelerator;
•    VGA output (up to 1400×1050 60 Hz (N450) and 2048×1536 60 Hz (D510));
•    LVDS interface (up to 1280×800 60 Hz (N450) and 1366×768 60 Hz (D510), single-channel 18-bit mode)
•    Two 10/100/1000 Mbit/s Gigabit Ethernet controllers
•    4xUSB 2.0, 2xRS-232, 2xRS-485/422 galvanically isolated
•    Operating temperature range: -40C to +85C (IEC 68-2-14-84)
•    shock/vibration stability: 50g/5g (IEC 68-2-27-87; IEC 68-2-6-82)
•    OS compatibility: Windows XP (Embedded), Linux 2.6, QNX 6.5
•    MTBF: Min 100000 hours
Fastwel CPC308 is an embedded SBC in PC/104-Plus format (PCI 32-bit, ISA 16-bit) with an optimized CPU performance to heat emission ratio. CPC 308 is based on Intel Atom CPUs with integrated graphics and wide range of communication interfaces. CPC308 estimated power consumption is from 12 to 17 watts depending on model. Thermal design alows using both air cooling and conductive cooling.
The module includes CompactFlash socket, two Ethernet channels, four USB ports, two SerialATA ports, four serial ports, and NAND Flash drive.
PC/104 and PC/104-Plus modules can be used for functionality expansion.
The module is supplied with preinstalled FreeDOS operating system (if the preinstalled operating system options are not selected) and is compatible with MS DOS 6.22, QNX 6.5, Windows XP Embedded, and Linux 2.6 operating systems.
DDR2 SDRAM 667 MHz , 512 MB / 1 GB, 64-bit addressing, soldered
2 GB NAND Flash
SATA interface: 50 MB/s read, 45 MB/s write
2D/3D accelerator
VGA output (up to 1400x1050 60 Hz (N450) and 2048x1536 60 Hz (D510)
LVDS interface (up to 1280x800 60 Hz (N450) and 1366x768 60 Hz (D510), single-channel 18-bit mode)
Two 10/100/1000 Mbit/s Gigabit Ethernet controllers
4xUSB 2.0, 2xRS-232, 2xRS-485/422 galvanically isolated
Operating temperature range: -40C to +85C
OS compatibility: Windows XP (Embedded), Linux 2.6, QNX 6.5
Intel Atom N450/D510, 1.66 GHz CPU