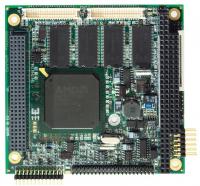 The CPU-1421 is ideally suited for applications requiring high reliability and low power consumption such as mobile systems in transportation, industrial, medical and military environments. This module is compliant with the 2002/95/CE (RoHS) directives.
This integrated PCI-architecture 5×86 class PC/104-Plus computer is based on the AMD Elan SC520 133MHz processor with 64MB of onboard soldered SDRAM for high reliability. Peripheral interfaces include, four serial ports (2 RS-232, 2 software configurable as RS-232/422/485), two independent 10/100Mbps fast Ethernet controllers, a bi-directional EPP/ECP parallel port, high speed EIDE hard drive interface, speaker port, AT keyboard and PS/2 mouse, real-time clock, watchdog timer, and two additional 16-bit counter/timers free for the user.
This very low power consumption module is ideal for systems that require passive or structural heat dissipation. The module and the Eurotech embedded BIOS ensures compatibility with popular commercial operating systems such as Windows CE and Linux.
The Embedded BIOS is located in a 1MB Flash EPROM and is re-programmable on-board. Set-up parameters are stored in non-volatile Flash memory to enable the module to operate without a battery and avoids corruption of set up data in the field. The CPU-1421 has been designed for harsh environments, resisting vibration, humidity and temperature extremes.
PCI-Architecture with ISA-bus
AMD lan SC520 133MHz
64-128 MB Onboard soldered SDRAM
Disk On Module, Compact Flash or ATA Flash
BIOS Flash: 1Mbyte 8bit +5V Flash EPROM
SSD support as Read or R/W disk
Virtual Peripheral support