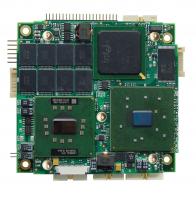 The CPU-1482 is an embedded RoHS compliant board based on two modules: a mezzanine CPU module combined with a PC/104-Plus form factor carrier.
The mezzanine CPU module features the Intel® Pentium® M 1.4GHz (having 2MB L2 cache and 400MHz FSB) processor and its Intel® i855GME chipset. The system comes with 512MB DDR, 266MHz (PC2100), soldered onboard. No active cooling is required to operate within the standard and extended temperature ranges. The carrier implements all the connections to the external world, including 8 USB 2.0 ports, 1 Fast Ethernet interface (10/100Mbps), 2 Serial ports, Analog VGA and Flat Panel LVDS outputs, 1 AC97 interface, Keyboard and Mouse connectors and an IDE controller that supports IDE Flash device (Disk-On-Module, Compact Flash and Flash Disk). The carrier also performs the connections for the ISA and PCI bus enabling the CPU-1482 to stack on top of a PC/104-Plus system. The carrier provides support for Watchdog management and Real Time Clock (external backup battery) and can be customized to match specific customer needs.
The BIOS for the module is embedded and is located in a 1MB Flash EPROM, it is fully re-programmable onboard. The set-up parameters are saved in Flash to allow the module to operate without a battery.
Intel® Pentium® M 1.4GHz, 2MB L2 cache, 400MHz FSB
512MB DDR, 266MHz (PC2100), soldered onboard
IDE ATA 100 Controller
2x Serial ports
8x USB 2.0 ports
10/100 Mbps Ethernet
Graphic controller with analog VGA and Flat Panel LVDS interface
BIOS with enhanced embedded features can be easily customized and upgraded to match the specific system configuration
Watchdog management
Virtual Peripheral Support
Extended operating temperature range and conformal coating available