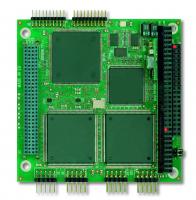 he CTR-1474 is a high performance Four channels Video Encoder that benefits by the features and the enhanced quality provided by the JPEG2000 (J2K) – ISO/IEC15444-1 image compression standard.
The Module implements the computationally intensive operations of the JPEG2000 image compression standard as well as provides a fully ISO/IEC15444-1 compliant code stream generation for most applications that supports real-time video encoding.
The CTR-1474 provides high quality solutions for use in professional video and Embedded PC systems based on PC/104-Plus modules.
The CTR-1474 can process images at a rate of 40M samples/sec in reversible mode, and at higher rates when used in irreversible mode. It contains a dedicated wavelet transform engine, an on board memory system and an embedded RISC processor, which can provide a complete JPEG2000 compression/decompression solution.
The CTR-1474 has been designed to resist vibrations and temperature extremes.
Four analog video input: NTSC, PAL
Independent for each video channel: Programmable on predefined windows, Programmable sensibility
JPEG2000 encoder module
1 output channel on decompression
Dimensions: 90L x 96W x 15H mm (3.6 x 3.8 x 0.6)