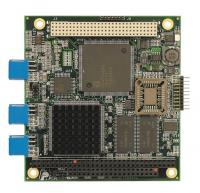 The CTR-1475 is a real-time MPEG-4 video compressor, encoder and frame grabber module designed to capture up to four concurrent high-quality analog video and audio streams, encode them in compressed MPEG-4 or AVI formats, and send them to an embedded computer over the 32-bit PCI bus.
Featuring an onboard RISC microcontroller dedicated to handling the computationally intensive video compression procedure, this PC/104-Plus form factor module supports up to four cameras at a time, enabling a lower-end system processor or up to four CTR-1475 modules to be used in a single system (supporting up to 16 cameras). Because of its compact size and rugged design, the board is especially suited for live video surveillance applications where rugged environmental conditions (vibration/extreme temperatures) and space constraints exist (i.e. in transportation, industrial and defence systems).
Featuring 4-channel NTSC/PAL/SECAM video decoders with composite video (CVBS) inputs, this modular MPEG-4 encoder provides dedicated hardware and rate control algorithms to produce a high quality MPEG-4 video stream. It can capture video (from PAL/NTSC cameras, VCR, and other video sources) in any of three modes: up to 30 frames/sec on one camera at full screen; up to 30 frames/sec on two cameras at 1/2 screen; or up to 30 frames/sec on four cameras at 1/4 screen. The board also provides an analog video output channel to perform real-time monitoring of the recording sequence.
Integrated RISC Microcontroller (to offload compression overhead from system CPU)
4 Analog Video Input Channels (Up to 16 concurrent cameras can be supported with four CTR-1475 in a single PC/104Plus stack)
1 Analog Video Output Channel (for Monitoring)
4 Audio Input Channels (PCM, ADPCM Audio Compression)
Video quality control: Programmable Quantization Values - Picture Size, Position, Panning, Tilting, Freeze
Video Processing: MPEG-4 (ISO/IEC 14496-2), MPEG-4 SOP @LEVEL3
Audio Processing: Supports ISO/IEC 11172-3 MPEG-1 Audio Layer 2, Supports u-Law PCM and IMA-ADPCM for speech quality 48/44.1/32 Samplings Supported