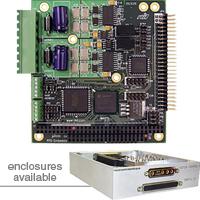 The ESC629ER Embedded DC servo motor controller board provides a compact single board solution for demanding motor control applications. Motion control tasks are performed by two LM629 motion control chips. These motion controllers interface to onboard MOSFET power bridges that drive motors up to 60 V with a maximum current of 10A. The ISC629 brings opto-isolation to these drive outputs as well. External drive can be implemented using a TTL interface direct from the LM629.
Also included is a power output of +5 V or alternatively +12 V to supply remote electronics or drives.
+5 V incremental encoder inputs to provide feedback
from the motors.
There are 24 TTL level digital I/O are available as a 50-pin header. This header has the standard pin out of RTD digital I/O boards.
Single board DC servo motor solution
0° to +70°C
Two independent motor interfaces
Control position, velocity and acceleration using dedicated motor control chipset
Two full bridges for direct motor connection
60 V, 10 A onboard MOSFET H-bridges
Incremental Encoder inputs
Galvanic isolation (ISC629)
Onboard +12 V @ 0.5 A supply for external devices (ESC629)
Output control port for external power stage
24 TTL Digital I/O, 8255 based
Optional rugged IDAN® enclosure system