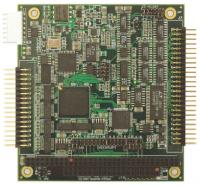 DMM-32DX-AT is Diamond Systems' most advanced embedded A/D board. It includes a comprehensive suite of analog and digital features to fit a wide variety of embedded application needs.
The 32 A/D input channels feature high-accuracy 16-bit resolution, 250KHz maximum sampling rate, programmable input ranges, and user-selectable single-ended / differential configuration.
The 4 D/A output channels feature user-selectable output ranges as well as a programmable waveform generator feature, 16-bit standard, 12-bit optional.
The 24 digital I/O feature bit by bit direction programmability as well as buffers for enhanced output current of -15mA (logic 1) / 64mA (logic 0).
The on-board programmable counter/timer circuitry includes a 32-bit counter/timer for A/D and D/A sample timing, as well as a 16-bit counter/timer for general counting, timing, and programmable interrupt functions.
Extended temperature operation of -40°C to +85°C is tested and guaranteed. Using our patented auto-autocalibration technology, DMM-32DX-AT will provide accurate analog measurements across its entire rated operating temperature range, ensuring reliable performance for critical applications.
Our advanced Universal Driver software is included free with DMM-32DX-AT and all our SBC and I/O boards. The Universal Driver provides a programming library that simplifies control of all the board's features and enables you to develop your application software quickly.
Board uses only ceramic capacitators for durability in high altitudes and other harsh environments.
DMM-32DX-AT includes Diamond Systems' patented auto-autocalibration technology. This circuitry enables automatic calibration of the board in response to changes in temperature without requiring any involvement by the user or application program. An on-board microcontroller monitors the board's temperature and uses on-board calibration circuitry to bring the board into calibration whenever needed, totally automatically. Typical accuracy post-calibration is +/-1LSB. The calibration threshold is set for 5 degrees C, which typically limits measurement errors to only +/-2 to +/-3LSB pre-calibration.
32 analog inputs with 16-bit resolution
Patented auto-autocalibration for high accuracy
250KHz maximum sampling rate
Interrupt based A/D data transfer with FIFO support
4 16-bit analog outputs
24 programmable direction digital I/O lines
Counter / timers for A/D control
40ºC to +85ºC operation
+5V only power supply
Universal Driver software and technical manual included