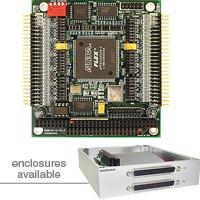 RTD Provides a wide array of Digital I/O controller modules with features that range from pulse width modulators, incremental encoder interfaces and user programmable timer/counters. The modules offer bit or port programmable, diode protected Digital I/O lines. Advanced digital interrupts offer event and match mode customizable interrupts.
Three 16-bit timer/counters can be used to divide down the on-board 8 MHz clock for customizable sampling rates.
Nine independent pulse width modulation channels provide an adjustable frequency and variable duty cycle outputs with differential and singled-ended options. Each channel provides 8 bit resolution and can be enabled or disabled independently.
Three quadrature encoder diode protected inputs for rotary or linear position encoders. Index input resets the counter to zero. Pseudo-differential mode and input filter increases noise immunity. Up to 32-bit counter width provides large range.
Bit or port programmable digital I/O
Buffered digital I/O
Diode protected digital I/O lines
Advanced digital interrupts with matching and event modes.
On-board 8 MHz clock
9 independent pulse width modulation channels with 8-bit resolution
Three 16-bit quadrature encoder inputs
Rotary or linear encoders
Three 16-bit customizable timer/counters
Jumper-selectable hardware IRQ lines
Pull-up/pull-down resistors on each bit or each port
AT-bus interface
High Reliability (HR): -40° to +85° C
DOS, Windows, and Linux drivers and example programs and source code
Optional rugged IDAN® enclosure system