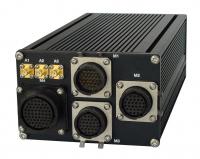 The DuraCOR 1100 is a vehicle logic unit and Intelligent Transportation System (ITS) platform designed for information level applications onboard road and rail transit vehicles.
The DuraCOR 1100 has been designed for ITS integrators to be a suitable solution for managing the data on board. It can be installed on transportation vehicles (such as trains or buses) and can act as a reliable mobile server data in environments prone to mechanical shocks and temperature extremes.
Furthermore the DuraCOR 1100 is provided with advanced autodiagnosis features for monitoring the status of the system, and it can be provided with a remotable status monitor, with pre-alarm features, that can send alert messages via SMS.
Celeron 400 MHz processor
256 MB SDRAM
512 MB DOM
Enhanced communication capabilities
FireWire (IEEE1394b)
GSM/GPRS/Railway-GSM (UMTS)
Gigabit and Fast Ethernet ports
Extended Temperature Range from -25°C to +70°C
Rugged Chassis Design
EN 50155, CE and ECE Regulation 10.02 compliance