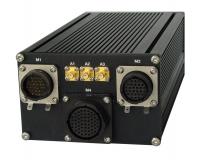 The DuraCOR 1100-10 is the ideal solution for precise localization applications, enhanced wireless communications and real-time vehicle tracking (fleet management). It can be employed in harsh environmental conditions where using rugged and compact devices is a must.
The DuraCOR 1100-10 is compliant with the EN 50155 standard; it can withstand shocks, vibrations and high humidity, maintaining high reliability and precision. It can achieve extended temperature ranges (-25°C/+55°C) without using active cooling fans.
The system is provided with 12 GPS channels for localization and can be provided with three-band HSDPA/UMTS/GPRS cellular modem for enhanced long range wireless communications. Furthermore it can integrate: Fast Ethernet controller, CAN BUS, Isolated Multi-Serial Ports, Isolated Digital I/O and hi-speed USB 2.0 ports.
The system is provided with advanced auto-diagnosis features for monitoring the status of the system and it can be provided with a remote status monitor, with pre-alarm features that can send alert messages via SMS, improving security.
Celeron 400 MHz processor
256 MB SDRAM
512 MB DOM
12 channels GPS
Wireless features for high precision vehicle localization and enhanced communications
Advanced auto-diagnosis features
Extended Temperature Range from -25°C up to +55 °C
Fanless system
Rugged Chassis Design
EN 50155, CE and ECE Regulation 10.02 compliance