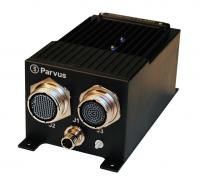 The Parvus DuraCOR® 830 is a rugged tactical mission processor based on the ultra low-power 1.6GHz Intel Atom CPU, optimally designed for Size, Weight, and Power (SWaP)-constrained military / aerospace vehicle and aircraft installations. Mechanically compact (<4" tall, <4lbs heavy), this small form-factor computer subsystem integrates Gigabit Ethernet and dual MIL-STD-1553 (optional) connectivity, along with digital I/O and standard PC interfaces, including analog video, audio, 3x USB, 2x RS-232 serial, keyboard, and mouse. For application flexibility, the unit comes with a removable 16 GB CompactFlash disk pre-loaded with a Linux and an 8GB industrial solid state disk (SSD) for additional file storage.
Designed for avionics and ground vehicle platforms to enhance situational awareness and computational capabilities, the DuraCOR 830 delivers processing and multimedia performance similar to Pentium M-based DuraCOR solutions, but with less power consumption, double the RAM memory capacity, and dual Flash SSDs. The mission computer is also equipped with a 28V power supply compliant with MIL-STD-1275 and MIL-STD-704 voltages, spikes, and surges. The unit is based on a modular PC/104-Plus architecture with up to two (2) open card slots and over 100 spare connector pins for I/O expansion, making it possible to special order with customer-specific I/O configurations.
The DuraCOR 830 has been qualification tested under extended temperature (-40 to +71C) and other demanding MIL-STD-810G environmental conditions (thermal, shock, vibration, altitude, humidity). Its conductively cooled, sealed aluminum chassis incorporates protection from water and dust ingress, as well as MIL-STD-461F emissions and susceptibility. Power and system I/O signals are brought out through lightweight, high-density MIL-38999 connectors, making the product an ideal solution for a variety of unmanned and manned command and control (C2) applications.
Application engineering services are available for modified COTS (MCOTS) configurations at minimal/no NRE, including pre-integration of PC/104-Plus I/O cards. These special order/custom configurations come with pre-integrated IO cards (i.e. additional MIL-1553 Channels, RS-232/422/485 Async Serial Ports, GPS Receiver, MPEG-4 Encoder, etc.).
Low-Power CPU: Intel Atom Z530 Processor, 1.6 GHz Clockspeed
Dual Flash Storage: Integrated Solid State Disk, 8 GB for OS (Linux / Windows Embedded Pre-loaded); CompactFlash Solid State Disk, 16 GB for File Storage, Removable
Connectivity & I/O: 1x Gigabit Ethernet, 3x USB, 2x RS-232 Serial, VGA Video, Audio, PS2, 2x MIL-STD-1553 (optional)
MIL-STD-704E, MIL-STD-1275D Compliant Power Supply
MIL-STD-810F Compliance: Crash Safety Shock, Functional Shock, Vibration, Temperature, Humidity, Dust and Water Ingress, Immersion
MIL-STD-461E Compliance: Radiated and Conducted Emissions and Susceptibility
Mechanical: Water Tight Aluminum Chassis with Hardened Finish
Expandable: Up to 2x Open PC/104-Plus Slots for Expansion Cards
Lightweight Metal Chassis: <4 lbs
Applications: Civil / Military Mobile Rugged Computing, Command and Control
Sealed Metal Chassis with Hardened Finish & Mounting Flanges Designed to be Water Tight