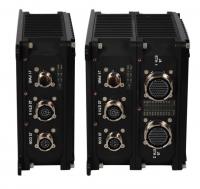 The Parvus DuraMAR® 5915 is a rugged Commercial-Off the Shelf (COTS) Cisco IOS-managed secure mobile network router integrating Cisco's 5915 Embedded Services Router (ESR) card in an ultra-rugged chassis optimized for harsh military and civil vehicle / aircraft installations. A standalone 5-port router model (the "0X Series") together with subsystem variants integrating Ethernet Switches based on Marvel ("1X Series"), Cisco ("2X Series") and Vitesse ("3X Series) networking technologies enable users to scale port density up to 23 total Ethernet ports. An ideal solution for IP networking technology refresh and situational awareness applications deployed at the tactical network edge, the DuraMAR 5915 enables prime defense contractors and civil agencies to deploy data, video, and voice services virtually anywhere LAN/WAN connectivity may be required, especially in mobile, airborne, ground, manned or unmanned vehicle and sensor applications.
The DuraMAR 5915 provides a robust network routing architecture with the performance, security, Quality of Service (QoS), high availability, and manageability that customers expect from Cisco IOS-based technologies. The familiar Cisco IOS software interface minimizes training requirements and provides extensive support for IPv4/IPv6 routing protocols, IP multicasting, Radio Aware Routing (RAR), Dynamic Link Exchange Protocol (DLEP), remote VoIP, Firewall/IPS/IDS, Mobile Ad Hoc Networking (MANET) and Mobile IP routing for connectivity in Comms on the Move (COTM) applications. An onboard AES hardware encryption engine offloads encryption processing from the router to provide highly secure yet scalable data, video, and voice services. The DuraMAR 5915 1X variant couples the 5915 ESR with a lightly-managed Marvell-based Layer 2 Gigabit Ethernet switch. The 2X variant (MAR-5915-2X) provides an all-Cisco IOS network routing and switching architecture with an integrated Cisco ESS 2020 Ethernet switch. The 3X" model (MAR-5915-3X) pairs the 5915 ESR with a higher bandwidth, fully managed Layer 2 Vitesse Gigabit Ethernet switch running Vitesse CE Services software with support for Precision Timing (IEEE-1588v2), Link Aggregation, and Built in Test (BIT).
Optimized for Size, Weight and Power (SWaP) sensitivity as well as mechanical robustness under extreme environmental conditions, the DuraMAR 5915 is designed for extreme MIL-STD-810G and MIL-STD-461F environmental and EMI compliance (thermal, shock, vibration, humidity, altitude, conducted and radiated emissions & susceptibility). The newer DuraMAR 5915 2X and 3X variants are also designed for RTCA/DO-160G environmental and EMI/EMC compliance for commercial aerospace. Leveraging stackable PC104 subassemblies and a modular enclosure design, the unit is completely sealed against dust and water ingress (IP67), requires no active cooling, provides interfaces over MIL-DTL-38999 connectors, and features a military-grade power supply for aircraft (MIL-STD-704F) and ground (MIL-STD-1275D) vehicle voltage inputs, spikes, and transient levels, as well as MIL-STD-461F EMI/EMC filtering.
Ruggedized Cisco 5915 Router with Enterprise IOS Software for Robust Security, Management, QoS, VLAN, IPv4 / IPv6 Routing, IP Mobility, Interoperability
Integrated Services Router (ISR) Features Support Concurrent Data, Video, and Voice Services, as well as Firewall and Hardware AES Encryption Acceleration
Modular, Open Architecture Rugged COTS PC104 Hardware Design
Integrated Parvus Gigabit Ethernet Switch Option to Scale Port Density to 19 Ethernet Ports for Higher Port Density Application Requirements
Fully Qualified to MIL-STD-810G Shock, Vibration, Thermal, Altitude, Humidity
-40 to +71C Fanless Extended Temp Operation with No Moving Parts
Corrosion-Resistant, Aluminum Chassis Sealed Against Water, Dust, EMI
Circular MIL-DTL-38999 Connectors for Reliable Network Connections
Filtered, Transient-Protected Power Supply for Aircraft and Vehicle Use
Qual Tested for MIL-461F Conducted/Radiated Emissions & Susceptibility
Data Zeroization Support to Erase Sensitive Information
Integrated Cisco 5915 Embedded Services Router (ESR) PCI-104 Card
Cisco Enterprise IOS - Base Image or Advanced Services Image
MAR-5915-0X Series (Standalone Router): 5x Ethernet Ports (3x 10/100 Switched, 2x 10/100 Routed)
MAR-5915-1X Series (Router+Marvel Switch):19x Ethernet Ports (15x GbE Switched, 2x 10/100 Switched, 2x 10/100 Routed)