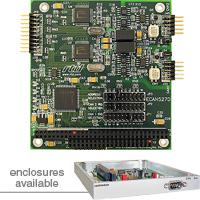 RTD provides a wide range of CAN bus products. We offer boards using either the Intel 82527 or Philips SJA1000 CAN controller. Boards are available in single- or dual-channel configurations, with either fiber optic or twisted pair connections.
Included with these boards are bi-directional I/O pins for additional system control options. Software drivers may support the on board LEDs to indicate visually bus error conditions.
Also RTD offers the CAN Spider as an active CAN hub designed to connect four RTD fiber optic ECAN527HR-2 CAN bus boards, thus forming a star-type fiber optic CAN system. The CAN Spider preserves CAN's bitwise arbitration even in a fiber environment. This network topology is expandable to multiple CAN Spider modules through the on-board galvanic isolation twisted pair CAN port.
SJA1000 CAN-network controller
Intel 82527 CAN controller
1 Mb/s maximum data rate (software programmable)
Twisted-pair galvanic isolated CAN bus, 750Vac-RMS isolation
Optional Fiber-optic CAN bus
24V CAN Compatible
8-bit bi-directional I/O port
Hub module featuring 4 fiber optic CAN ports
Each fiber optic port is capable of 1 Mb/s data rate up to 40 meters
Fiber hub can be cascaded with isolated twisted pair wire interface
Optional rugged IDAN® enclosure system