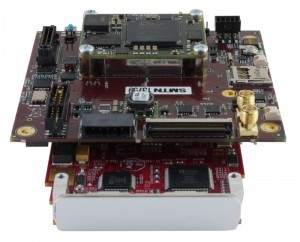 The EMC²-7A200 can use commercial, industrial or automotive graded Artix-7 FPGAs and is complimented with 1Gbyte of DDR3 local storage, 32Mbytes of Flash memory for storage/configurations and has 68x free differential I/O pins which are routed to a VITA57.1 FMC-LPC high-speed connector for bespoke interfaces.
The four-lanes MGT (multi gigabit serial transceivers) are coupled to a PCI switch for infinite scalability, the FMC-LPC and a SATA connector on the PC/104 stack to connect to local storage or for direct high-speed connection to stacked EMC2 boards.
PCIe/104 OneBank® FPGA I/O Board
1Gbyte DDR3 and 32Mbytes of Flash Memory
Xilinx Artix-7 FPGA for I/O Interface and processing
Integrated 100Mb Ethernet
PCI Express Gen 2 compatible and integrate PCI Express switch
Infitive number of EMC²-7A200's can be stacked for large I/O solutions
Expandable with any VITA57.1 FMC-LPC I/O Module for more flexibility
96mm x 90 mm PC/104 Form-Factor with Cable-less Break-Out PCB Connector
Full Design Information available
Full Support for Xilinx latest Vivado development tools.