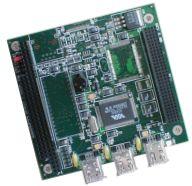 The FireSpeed2000 is a high performance PC/104-Plus Controller providing 3 serial ports conforming to the IEEE-1394 OHCI specification, popularly known as FireWire. The FireSpeed2000 provides an ideal interface for attaching high speed Audio, Video and Storage peripherals to an embedded system.
Automatic detection and configuration of devices, without the need for on-board jumpers, ensures robust system operation and high reliability . The FireSpeed2000 provides a significant advantage over other communications and interfacing controllers by allowing multiple devices to be attached simultaneously to the high speed serial bus. Three serial ports are provided enabling up to 63 devices to be connected with cable lengths of over 4M.
The FireSpeed2000 is supported by a suite of drivers for Windows98/NT/CE/2000 and Linux. The FireSpeed2000 is an ideal solution for solid-state video recording, machine vision, digital image capture and processing, and hot-pluggable storage peripheral interfacing.
Meets IEEE-1394 Fire Wire Standard
Three high speed Serial Ports
Speeds of 100/200/400 MBits/sec
Three ports link up to 63 devices
Video/Audio/Mass Storage auto-detection
Hot pluggable connections
Multiple FireSpeed2000 cards per system
High Performance PC/104-Plus Bus Master
Drivers for Win95/98/NT/2000, Linux