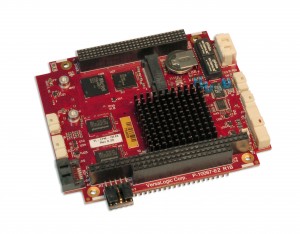 The Fox is a low power embedded computer designed around the PC/104-Plus standard. It is powered by a DMP Vortex86DX2 processor that enables the entire board to typically use less than 5.5W of power. Several I/O interfaces, multiple expansion buses, and thermal management options provide system designers with flexibility and low overall system cost.
Fox was designed with no moving parts, soldered-on RAM, and tested to withstand extreme temperatures, high-impact, and vibration. This single board computer is an ideal choice for applications that require moderate performance, low-power draw, high quality, and long product life.
As with all VersaLogic products, the Fox is backed by a five-year warranty, 5+ year off-the-shelf availability guarantee, and expert US-based technical support. Product Life Extension options support availability through the year 2025.
PC/104-Plus Expansion - Supports PCI and ISA expansion on a highly rugged format.
Vortex86DX2 Processor - 933 MHz performance with low power consumption.
Network Support - Fast Ethernet with remote boot support.
System RAM - Up to 1 GB soldered-on RAM for harsh environments.
USB I/O - Four USB 2.0 ports support keyboard, mouse, and other devices.
Device I/O - Four serial ports and Intel High Definition Audio (HDA) compatible.
On-Board Expansion - Supports Wi-Fi modems, GPS, MIL-STD-1553, Ethernet, flash data storage, and other mini PCIe modules.
MicroSD Socket - Supports removable microSD card solid-state drives.
SATA - Port supports bootable SATA hard drive.
SPI Interface - Supports SPI and SPX devices, including low cost analog and digital modules.
Fanless Operation - No moving parts required for CPU cooling.
Extended Temperature Version - -40° to +85°C operation for harsh environments.
MIL-STD-202G - Qualified for high shock/vibration environments.
Software Support - Compatible with a variety of popular x86 operating systems including Windows, Windows Embedded, and Linux.