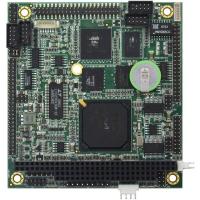 Helios is an wide temperature PC/104 SBC based on the Vortex86DX processor at 1GHz or 800MHz, with on-board memory, VGA/LCD support, 10/100 Ethernet, 4 RS-232/422/485 serial ports, and integrated autocalibrating data acquisition. Its soldered-on 256MB memory plus -40/+85C operating range make it suitable for mobile and other rugged applications. The 2-in-1 SBC + I/O design reduces stack size and increases reliability of the overall system. Helios offers a complete SBC solution in the compact PC/104 format for low-power, low-cost applications.
Helios is offered both with and without a high-performance data acquisition circuit integrated onto the SBC. The data acquisition circuit includes 16 channels of 16-bit A/D with programable ranges and 250KHz maximum sample rate. A programmable A/D sampling timer plus a 2K sample FIFO support seamless high-speed A/D conversions at any rate up to the board's limit. Input ranges of +/-10V down to +/-1.25V in bipolar mode and 0-10V down to 0-1.25V in unipolar mode enable the circuit to match a wide range of input signals for optimum resolution.
The circuit also includes 4 12-bit D/A channels with programmable ranges of +/-10V, +/-5V, 0-10V, and 0-5V. Both A/D and D/A feature autocalibration, which keeps measurements accurate regardless of time and temperature.
The base model of Helios offers 16 digital I/O lines with programmable direction. The data acquisition circuit adds 24 more lines for a total of 40.
All data acquisition features are supported by our Universal Driver software which provides a high-level programming interface for use with Windows XP/XPembedded/CE, Linux, QNX, and even DOS.
For more I/O needs, Helios includes a PC/104 connector compatible with Diamond's wide line of PC/104 I/O modules, including analog data acquisition, digital I/O, relays and optocouplers, serial ports, and DC/DC power supplies.
2-in-1 design reduces size and cost of your system
Low power 1GHz or 800MHz Vortex86DX processor
10/100Mbps Ethernet
CRT and flat panel support
4 RS-232 ports, 2 with RS-422/485 capability
Optional data acquisition featuring 16 16-bit A/D with autocalibration
4 12-bit D/A, 24 DIO and 2 counter/timers
-40°C to +85°C operation / 5W total power dissipation