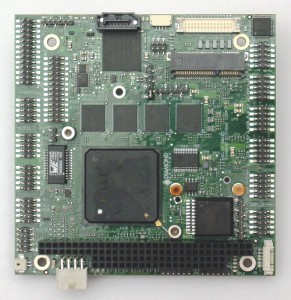 Diamond's family of Helix PC/104 SBCs combines mid-range CPU performance, standard PC I/O, and on-board data acquisition circuitry at a competitive price. Available PC I/O includes 3 or 6 USB 2.0 (model dependent), 4 serial ports (2 RS-232/422/485 and 2 RS-232), 1 10/100Mbps Ethernet, 1 Gigabit Ethernet port, and a SATA port. The data acquisition circuit includes 16 16-bit analog inputs, 4 16-bit analog outputs and 27 digital I/O lines configurable as counter/timers and pulse width modulators.
Helix supports stackable I/O expansion with PC/104 I/O modules and provides a PCIe MiniCard socket for additional I/O expansion. I/O modules featuring WiFi, Ethernet, analog I/O, digital I/O, and CAN are available in the PCIe MiniCard form factor, providing compact expandability without increasing the total height of the system.
Helix SBCs run Linux and Windows Embedded Standard 7. Both Linux and Windows Embedded 7 Software Development Kits are available with bootable images and drivers to get you started on your design project right out of the box.
The Helix SBC was designed with rugged applications in mind. With an operating temperature of -40°C to +85°C, soldered on-board memory, and thicker PCB, Helix is an excellent choice for vehicle and other harsh environment applications.
Customization Options
The following customization options are available for the Helix SBC family.
2GB on-board RAM instead of 1GB
9 to 36V wide voltage power input
Latching connectors instead of pin headers
Extended life backup battery
Replace configuration jumpers with 0 ohm resistors
Low profile heatsink
Conformal coating
Custom BIOS
Custom FPGA code
Models:
HLX1000-2GA: Helix SBC, 1GHz Vortex 86DX3 CPU, 2GB DDR3 SDRAM, analog I/O, digital I/O, extended temperature
HLX1000-1GD: Helix SBC, 1GHz Vortex 86DX3 CPU, 1GB DDR3 SDRAM, digital I/O, extended temperature
HLX1000-2GD: Helix SBC, 2GHz Vortex 86DX3 CPU, 2GB DDR3 SDRAM, digital I/O, extended temperature (MOQ only)

Vortex86DX3 SoC dual core CPU running at 1.0GHz
Up to 2GB of DDR3 SDRAM soldered on board
3 or 6 USB 2.0 ports (model dependent)
2 RS-232/422/485 serial ports & 2 RS-232 ports
1 Gigabit Ethernet port + 1 10/100Mbps Ethernet port
1 SATA port for disk-on-module or external drive
1 dual use PCIe MiniCard / mSATA socket
24-bit dual channel LVDS LCD display & VGA CRT
16 16-bit analog inputs
4 16-bit analog outputs
Up to 27 digital I/O lines with programmable direction
PC/104 stackable I/O expansion capability
-40ºC to +85ºC operation
PC/104 form factor