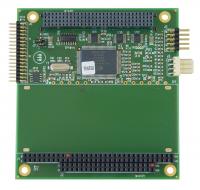 The INT-1462 video frame grabber is a low-cost, high-performance solution for capturing analog broadcast signals across the PCI bus. Based around the Conexant Fusion(TM) 878A video decoder, this compact PC/104-Plus form factor board supports NTSC, PAL, and SECAM video formats at capture resolutions of up to 768×576 pixels and 30 frames per second. It has the ability to also sub-sample, scale, crop, and clip images at various resolutions and frame rates.
Capturing and then digitizing video in YCbCr, RGB, and YUV Planar pixel formats from up to four devices (one input channel at a time), the INT-1462 module can support four CVBS composite inputs, or three composite video and one S-Video (Y/C) input source. The board also accepts one audio input and includes 24 flexible digital I/O channels, which can be configured for digital video input, high-speed MPEG stream transport, or to input / output general board-level signals to or from the PC/104-Plus bus (for remote camera control).
Potential Applications: Placing video data directly into the host memory for video capture applications or into the frame buffer of a video display for video overlay applications. It can also be used as a multimedia hub of an Embedded PC system connecting multiple analog and digital video sources to the CPU module via a single PCI connection. Sample applications include remote video surveillance, medical and industrial imaging, motion detection, traffic monitoring, PC / digital television, digital VCR, desktop videophone, still frame capture and VBI data service.
4 Composite Video Inputs (1 configurable as S-Video)
Video decoding formats: NTSC, PAL, SECAM
Output Resolutions: NTSC: 640x480, 320x240 or 720x480; PAL/ SECAM: 768x576 or 384x288
Input Formats: NTSC-M, PAL-B, PAL-G, PAL-H and SECAM
One Mono Audio Input
Programmable Image Brightness, Contrast, Saturation and Hue
Complex Clipping of Video Source and VGA Video Overlay
Extended temperature range versions (-40/+85°C) available
Conformal coating and custom connectors available