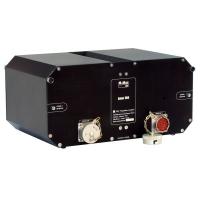 • Ruggedized dual-CPU computer for error-free signalling processing
• '2 out of 2' architecture
• Full compliance with CENELEC SIL 4 specifications
• UPS uses ultracapacitor power source
• CPUs and UPS inside low-maintenance fanless enclosure
• Operating Temperature -40 to +60 °C
• Shock handling up to 6g, Vibration up to 2g
The Max 400 ST/USO is an error-free rugged computer for on-board and off-the-shelf applications. It is built to provide error-free signaling information processing, based on 2-out-of-2 architecture in full compliance with CENELEC SIL4 specifications. The Max 400 contains two identical subsystems connected to each other via internal interface. Each subsystem has its own processing core and a UPS employing an intelligent ultracapacitor-based charging device.
The Max 400's two independent CPUs form a vital processing core and perform calculations (such as interlocking logic) in different ways. Once per cycle they are synchronised with each other to exchange data and perform consistency cross-checks. The UPS ultracapacitors provide the system with 70 seconds of backup power. The system is designed for use on stationary objects within a railway infrastructure.
Technical specifications:
Interfaces:
2x Dual CAN
2x RS-232
2x RS-422
2x RS-485
2x Ethernet 10/100 Mbps
Power: +9…+40 VDC
Power Consumption: 2x 12W (Maximum 2x 50W)
Enclosure:
Aluminum enclosure
Passive cooling system (no fans)
Mechanical (W x H x L): 294 x 145 x 208 mm
Environmental and physical specifications:
Dust/Moisture: IP50