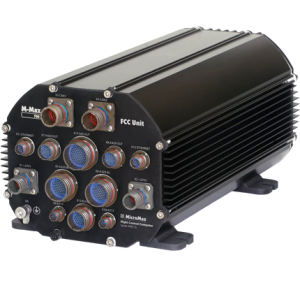 • Rugged construction and sealed case for tough environments
• The amount of ports in the system totals 168
• Complies with MIL-STD-810G specifications
• Operating temperature from -40 to +70 °C
• Shock handling up to 6g, Vibration up to 2g
• Fanless MicroMax technology dissipates heat
• Internal heating and temperature control system
• IP65 rated dust and moisture protection
• Vast amount of I/O ports: 4x CAN, 48x ARINC, 114x DIO
The M-Max 700 PR/APR is a compact high-performance rugged computer. It is designed to operate as part of a helicopter equipment distributed control system. An internal heating and temperature control system allows the computer to operate in extremely harsh environments in a wide temperature range. The M-Max 700 PR/APR features a vast amount of I/O interfaces (168) including CAN, Fast Ethernet and ARINC which is unsurpassed in this compact enclosure. The computer has no moving parts and utilizes a passive cooling system. Along with an independent internal elements damping system it ensures the highest level of reliability.
CPU: Intel Core Duo L2400 (1.66 GHz, 2 MB L2 cache, FSB 667 MHz)
RAM: 2 GB DDR2 SDRAM
Data storage: SSD SLC 32 GB
Interfaces: 4x CAN (Isolated, up to 1 Mbps), 28x in / 16x out ARINC 429 (12.5 or 100 Kbps), 2x in / 2x out ARINC 717 (64 to 8192 wps), 2x Ethernet 10/100 Mbps, 35x in / 79x out DIO channels, 1x VGA output, 2x USB 2.0
LAN: 2x 10/100 Base-T (Intel 82562, Realtek 8103EL)
Power: +27 V DC (from 9 to 40). Dual power input with 'OR' logic
Power Consumption: 55 W (160 W max on heating)
Enclosure: Aluminum enclosure, Passive cooling system (no fans)
Mechanical (W x H x L): 181 x 150 x 350 mm (without end caps and connectors)
Weight: 5.9 kg
Operating Temperature: -40 to +70 °C Complies with MIL-STD-810G (High temp. method 501.5, Low temp. method 502.5, Procedure I, II)
Humidity: Operating: 5 to 95 % at +25 °C, non-condensing
Vibration: Operating acceleration amplitude up to 2g (5-500 Hz), Complies with MIL-STD-810G (Method 514.6, Procedure I, Category 14)
Shock: Maximum peak shock acceleration up to 6g (11 ms), Complies with MIL-STD-810G (Method 516.6, Procedure I)
Dust/Moisture: IP65