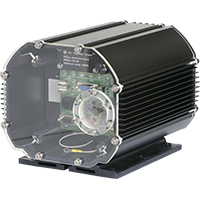 • Rugged construction and sealed case for tough environments like transportation (ground, rail, air and marine), mining and processing
• Operating temperature from -40 to +65 °C
• Shock handling up to 40g, vibration up to 6g
• Uses fanless MicroMax patented technology to dissipate heat
• IP66 rated dust and moisture protection
• Two CAN interfaces*
• Space for 4 expansion boards**
• High performance comparable to high-end desktop computers, from Intel Core i7 2.8 GHz
• Excellent graphics capabilities using integrated Intel HD 4000 graphics controller
• Data storage with industrial SSDs; optional RAID functionality
The M-Max 800 EP2/PLT and M-Max 800 EP2/FL are designed for rapid deployment of customized systems having their own sets of PCI-104 expansion boards and external connectors. The base platform is equipped with an integrated heating system and allows installation of additional heating systems for customer boards. The platform can be equipped with a service board having connectors for all installed interfaces and indicator options, and it supports an optional transparent front panel allowing access to the connectors for visual monitoring of system operation during chamber testing. The platform is based on a high-performance M-Max 800 EP2 with Intel Dual Core i7 2.8 GHz CPU. Its high performance features include excellent 2D and 3D graphics capabilities through VGA interface. Data storage options include a variety of industrial SSDs with RAID functionality.
* M-Max 800 EP2/PLT
** M-Max 800 EP2/FL
CPU: Intel Core i7-3517UE (2.8 GHz, 4 MB L3 cache)
RAM: 2 GB DDR3 1600 MHz (soldered) Expandable to 4 GB at the time of order
Data storage: SSD 8GB; Optional 2x SSD 1TB each as hardware RAID0/1
Connectors (base platform): 1x PCI-104, 1x 120-pin I/O connector
Connectors (service board): 2x USB Type A, 1x DB-15HS (Display), 1x Micro-Fit* (External Heater), 1x 3-pin (Power), 3x RJ-45 (Ethernet), 2x DB-9* (CAN)
LAN: 1x 10/100/1000 Base-T, 2x 10/100 Base-T ports
CAN: 2x CAN 2.0 A and 2.0 B; ISO 11898 compliant driver circuits, up to 1 Mbit/s
Power: +9 to +33 (+40**) V DC (isolated), AC adapter: ~100 to 240 V (optional)
Power Consumption: 30 (25**) W
Enclosure: Aluminum enclosure, Passive cooling system (no fans)
Mechanical (W x H x L): 180 x 165 x 230 mm
Dust/Moisture: IP66
Operating Temperature: -40 to +65 °C
Humidity: Operating: 5 to 95 % at +25 °C, non-condensing
Vibration: Operating acceleration amplitude up to 6g (5-500 Hz), Shock: Maximum peak shock acceleration up to 40g (15 ms)