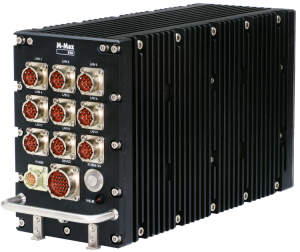 • Rugged construction and sealed case for tough environments
• ATR-type chassis
• Operating Temperature from -40 to +65 °C
• Shock handling up to 40g, vibration up to 2.5g
• IP66 level sealing protection
• Fanless MicroMax technology dissipates heat
• High performance system, Intel Core i7 based
• Excellent graphics capabilities using integrated Intel HD 4000 graphics controller
• Data storage options include industrial SSDs with optional RAID functionality
The M-Max 810 EP2/MS3 high-performance rugged industrial computer provides reliable operation in tough environments. The fully-ruggedized ATR-type aluminum chassis is fanless and uses natural convection and conduction cooling in accordance with MIL-STD-810 standards. COTS technology components allow configuring the M-Max 810 family to comply with a wide variety of airborne, marine and ground vehicle applications. Delivering excellent performance comparable to high-end desktop systems, it also features excellent 2D and 3D graphics capabilities as well as hardware video decoding.
CPU: Intel Core i7-3517UE (1.7-2.8 GHz, 4 MB L3 cache)
RAM: 2 GB DDR3 1600 MHz (soldered), Expandable to 4 GB at the time of order
Data storage: SSD up to 1TB, Optional 2x SSD as hardware RAID 0/1
Video: Intel HD 4000 integrated controller, hardware: MPEG2 coding, JPEG & MPEG decoding; VGA supports analog displays with resolution up to 2048 x 1536 @ 75 Hz
Connectors: 1x ONC-BS-2-10 (Power), 9x SNC28-10 (Ethernet), Optional: CeeLok FAS-T, 1x SNC-28-32 (VGA, 2x USB 2.0, RS-232). All connectors are IP66 or higher
LAN: 2x 10/100/1000 Base-T; 7x 10/100 Base-T ports, Optional: 9x 10/100/1000 Base-T
Serial ports: 1(2)x RS-232; USB: 2x USB 2.0
Power: +9 to +33 V DC (isolated). AC adapter ~100 to 240 V (optional); Power Consumption: 36 W
Enclosure: Aluminum enclosure, Passive cooling system (no fans)
Mechanical (W x H x L): 124 x 198 x 358 mm (without end caps and connectors)
Dust/Moisture: IP66
Operating Temperature: -40 to +65 °C, Complies with MIL-STD-810G (High temp. method 501.5, Low temp. method 502.5, Procedure I, II)
Humidity: Operating: 5 to 95 % at +25 °C, non-condensing
Vibration: Operating acceleration amplitude up to 2.5g. Complies with MIL-STD-810G (Method 514.6, Procedure I, Category 14)
Shock: Maximum peak shock acceleration up to 40g (11 ms) Complies with MIL-STD-810G (Method 516.6, Procedure V)