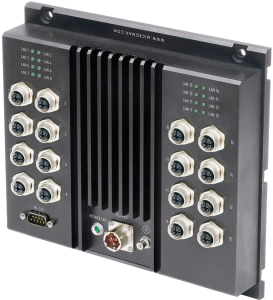 • Layer 2+ managed switch with 16 (8*) ports of 10/100/1000 Mbps Ethernet over copper
• Built-in microcontroller for configuration and management
• 8K MAC addresses and 4K VLANs (IEEE 802.1Q), 8K IP multicast group support
• 8 priorities and 8 QoS queues per port with scheduling
• Rapid spanning tree protocol (RSTP) and MTSP**
• Operating temperature from -40 to +75 °C
• Shock handling up to 40g, Vibration up to 2.5g
• Complies with MIL-STD-810G
• Wide power supply voltage input from +5 to +34 (36*) V DC
The M-Max SW216 is a ruggedized 16-Port Gigabit Ethernet Layer 2+ Managed Switch providing reliable operation in tough environments including transportation (ground, rail, air and marine), agriculture, and mining and processing. It accepts a wide power supply voltage input, and is tested and guaranteed over temperature range of -40 to +75 °C. Its rugged enclosure is designed according to VITA75 footprint. The SW216 has sixteen 10/100/1000 Mbps copper twisted pair ports. Support for control and management is through web interface, and host processor access through a Command Line Interface (CLI).
* M-Max SW208
** M-Max SW216
Main features: Layer 2+ Managed Switch; Built-in microcontroller for configuration and management; 8K MAC addresses and 4K VLANs (IEEE 802.1Q); IPv4 and IPv6 multicast group support 8 priorities and 8 QoS queues per port with scheduling; Rapid spanning tree protocol (RSTP) and MTSP**
Connectors: 1x SNC 28-3/14 (Power), 16x (8x*) M12 X-coded (GbE), 1x RS-232** (Serial). All connectors are IP67
LAN: 16x (8x*) switched 10/100/1000 Base-T ports
Power: +5 to +34 (+36*) V DC (non-isolated). Power Consumption: 10.4 (5.4*) W (typical)
Optional Power Supply: External P/S 120 W 90…260 V AC (-40 to +85 °C, IP67); External P/S 50 W AC/DC for DIN-rail (-10 to +60 °C, IP20); External P/S 40 W 90…260 V AC (0 to +40 °C, IP40)
Enclosure: Aluminum enclosure, Passive cooling system (no fans)
Indication: Power ON, 16x (8x*) LAN activity
Mechanical (W x H x L): 203.2 x 38 x 188 mm (without end caps and connectors)
Weight: 1630 (1430*) g / 3.6 (3.15*) lbs
Operating Temperature: -40 to +75 °C Complies with MIL-STD-810G (High temp. method 501.5, Low temp. method 502.5, Procedure I, II)
Non-Operating Temperature: -40 to +85 °C
Humidity: Operating: 5 to 95 % at +25 °C, non-condensing
Vibration: Operating acceleration amplitude up to 2.5g. Complies with MIL-STD-810G (Method 514.6, Procedure I, Category 14)
Shock: Maximum peak shock acceleration up to 40g (11 ms). Complies with MIL-STD-810G (Method 516.6, Procedure V)
Dust/Moisture: IP66