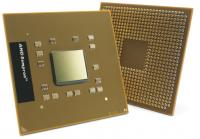 Get the smart combination of performance and value with solutions featuring the Mobile AMD Sempron® processor. The Mobile AMD Sempron processor offers the performance and security needed for the evolving requirements of today's embedded solutions. It is the only mobile processor in its class to feature advanced power-saving technology from AMD, reducing power consumption without compromising performance. The Mobile AMD Sempron processor is packaged in a small-footprint, socket S1 compatible, lidless 638 pin micro PGA. This enables small form factor and rugged designs to be created with optimal thermal dissipation utilizing a socket suitable for up to 50G shock and 7G vibration. The Mobile AMD Sempron is well suited for designs in the gaming, medical, transportation, industrial control, communications, and retail markets with specific models supporting extended longevity.
Product features and benefits
> AMD PowerNow!® technology, the first dynamic power management technology in the industry, delivers performance on demand and can reduce the TDP of the already low-power Mobile AMD Sempron by up to 56%, with TDP options starting at 8W
> Featuring AMD's innovative Direct Connect Architecture for leading-edge performance by providing separate, dedicated high-speed links between processor and memory, processor and I/O, and I/O to memory, to enable predictability in real-time applications
> HyperTransport® technology boosts overall system performance through a dedicated high-speed, low-latency I/O interface
> AMD Digital Media Xpress for compatibility with the largest installed base of multimedia-enhanced software, taking 3-D and graphics to new levels for medical imaging, gaming, kiosk, and point-of-sale applications
> Simultaneous 32- and 64-bit performance, designed to be compatible with the next generation 64-bit Windows® operating system, Microsoft® Windows Vista®
> Socket and electrically compatible with dual-core Mobile AMD Turion® 64 X2 processor to enable single-or dual-core solutions with the same platform providing a unique scalable power and performance solution
> Enhanced Virus Protection to increase the reliability of your network-connected applications.
To learn more go to www.amd.com/embedded