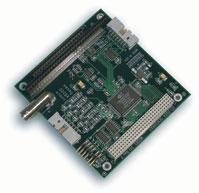 > High frame rate using the PC/104+ bus
> Color or monochrome: PAL, SECAM, NTSC, RS-170 CCIR compatible
> Four composite video inputs or three composite and one S-video
> Eight TTL I/O lines for camera control
> Programmable AGC, hue, contrast, saturation
> Optional enhanced SDK for Windows 98/2000/NT/XP/CE
> Optional Linux and QNX drivers
Sensoray Model 311 frame grabber converts video camera signals into digital data required for computer image processing and display. Up to four cameras may be connected to the board: four with composite video or three with composite and one with an S-video input. The 311 provides four digital input lines and four output lines to control camera focus, pan, tilt and triggering.