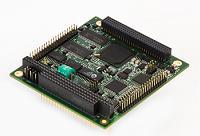 The MPEG4000-D4 is a 4 channel, full frame rate MPEG-4 codec on for the PC/104-plus bus system. The MPEG4000-D4 provides a powerful solution for capturing and compressing analog video inputs to the MPEG-4 standard. The MPEG4000-D4 not only provides MPEG-4 compression but can also simultaneously decompress and replay recordings from storage to display.
The MPEG4000-D4 allows high quality real-time video and audio capture and compression from NTSC/PAL video sources to disk and simultaneously provides an additional path for uncompressed video for on-screen preview or optional downstream video analytics. The high performance MPEG-4 video data compression and reduced bus utilization allows up to four MPEG4000-D4 cards to be fitted in a PC/104-plus system.
In addition to the video codec functionality, the MPEG4000-D4 is equipped with a RS-485 serial port for connection with collaborating equipment such as camera PTZ control. This feature further expands the versatility and application area of MPEG4000-D4.
The MPEG4000-D4 is support by a set of well-documented, comprehensive SDKs that minimize development risk and shorten time-to-market for applications in video streaming, recording, or routing. The SDKs are available on popular embedded operating systems such as Windows and Linux.
Typical applications using MPEG4000-D4 include solid-state digital video streaming/routing server, vehicle-based video codec, law enforcement, crime scene recording, remote video surveillance, multi-camera security application, asset monitoring, traffic monitoring and control as well as video acquisition and analytics.
Quad speed MPEG-4 video codec
Up to 4 x 4CIF (704 x576) size encoding at full frame rate (for NTSC/PAL video signals)
MPEG-4 decode playback
Composite video or s-video outputs for preview or playback
Full bit mapped graphics overlay with multi-level alpha blending
Automatic detection of motion
G.723 audio codec for each input channel with single audio playback channel
RS-485 serial port for camera PTZ
Real-time video preview to system VGA or NTSC/PAL output
Up to 4 MPEG4000-D4 cards per system
Drivers for Windows XP/XP-Embedded and Linux
PC/104-Plus 3.3v Add-in module
Operating temperature: 0°C to +60°C or -40°C to +85°C