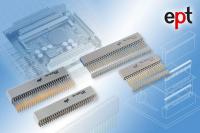 ept has developed an electromechanical connection with the PC/104 Plus connector system in press-fit technology. This connector system presents the J3 connector in accordance with the PC/104 Plus spec in a 2mm grid. ept offers female 120 contact connectors, shrouds 120 contact and pin headers 60 contact as a standard for convenient stacking of Printed Circuit Boards (PCBs). In order to meet the requirements of PC/104 Plus with pin headers, two headers are pressed-in parallel. This offers the use of pin headers as termination of a board-stack.
ept PC/104 Plus press-fit connectors offer a large number of advantages:
Male and Female connectors can be pressed in with the same ept press-fit tool in one single step, thus offering a time-saving production.
Female connectors can be mounted cost-effectively due to flat rock technology.
No costly manual soldering
No solder bridges due to solder-free press-fit connection.
Reduced inspection process
Shroud makes stand-offs unnecessary
Secure assembly of shroud and board by over pressing on the connector tails.
In addition ept offers customer-specific solutions in PC/104 Plus applications in 2.0 mm grid.
ept's proven press-fit technology Tcom press®
PC/104-Plus available for 22 mm Board-to-Board distance
Shrouds as accessory available
Individual performance level and contact number possible