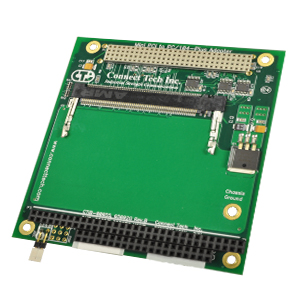 This adapter allows developers to mount a Mini PCI card, such as an IEEE 802.11 wireless LAN card, into a standard 3.3 or 5V PC/104-Plus stack.
Equipped with a passive PC/104 stack-through connector, the card can be installed in a PC/104-Plus stack without interfering with the signals of PC/104 cards located above or below.
The adapter includes a 3.3V regulator for use in 5V-only systems.
Compatible with standard Universal, 3.3V or 5V PC/104-Plus stack
Industrial temperature operating range (-40°C to 85°C)
Mini PCI Type III 124 pin female socket
PC/104-Plus 120 pin stack-through connector
PC/104 64 and 40 pin passive stack-through connectors
3.3V regulator capable of delivering 2 Watts of power to the Mini PCI card
Measures 3.55″ by 3.775″