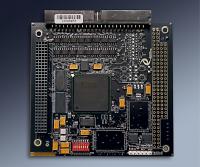 The BiSerial features large internal "BLOCK RAM" which can be used for FIFO or Dual Port RAM. The Spartan III® contains the PCI interface with DMA and the state-machines for your design. If deeper FIFO's are required; an additional 128Kx32 x2 are available. 16 – 40 MHz 485 and/or LVDS buffers with programmable termination and direction can be configured to your systems requirements.
There are 4 DAC, and 4 ADC channels which can be populated with 200 KHz. 16 bit devices.
Eight TTL IO are provided for flexibility, and to remove the need for an additional card when only a few bits are needed. The state-machines can be coupled to the TTL IO or they can be used as a separate parallel port or other function.
16 transceivers : RS-485 / LVDS
8 TTL IO
4 ADC 200 KHz 16 bit
4 DAC 200 KHz 16 bit
Custom State-Machines
Windows and Linux Support