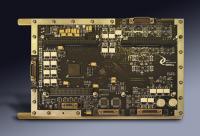 The BaseBoard acts as a motherboard for a PC104p stack with a power supply position [PC104] and PC104p / PCI-104 module stack. The BaseBoard has the "kitchen sink" IO acting like an extra module.
Consider this design as an example of custom designs we can do for you.
35 Optocoupled Inputs, 37 Optocoupled Outputs, 2 UART – RS-485 ports, 2 ARINC 429 – TX/RX, 4 ADC Ports, and 4 DAC Ports comprize the onboard feature set of the BaseBoard design.
Original Client used this design for an airborne application. Conformal coated.
Supports PC104p module stack
35 Opto Coupled Inputs
37 Opto Coupled Outputs
2 UARTs with RS-485
2 ARINC 429 ports
4 ADC 200 KHz 16 bit
4 DAC 200 KHz 16 bit