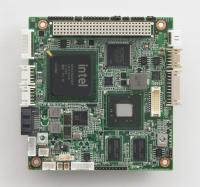 PCM-3363 uses an Intel® Atom® N455/D525 processor, supporting soldered 1 GB DDRIII 800MHz SDRAM. The Thermal Design Power (TDP) rating including processor and ICH8M chipset is only 9 Watts for the N455, and 13 Watts for the D525, further enabling power reductions, smaller systems, and performance improvements.
Design and Verification for Rugged Applications
Advantech's PCM-3363 adopts the IEC standard for Electro Static Discharge protection for the COM port transceiver with 15kV air gap protection/8kV contact protection for RS-232. PCM-3363 also uses Japanese polymer aluminum electrolytic capacitors with small ESR and better MTBF than electrolytic capacitors, and high Tg PCB (TG-170) that keeps the PCB more stable under high temperature operation. PCM-3363 passes a strict signal intensity verification process during the development stage to ensure high quality circuit design. PCM-3363 also utilizes Highly Accelerated Life Testing (HALT) to find weak points, design issues or material limitations, to help improve electrical/ mechanical design margins and increase reliability. PCM-3363 uses soldered memory and locked connectors (direction changeable) in all I/O interface to strengthen shock and vibration resistance. Plus, the PCI-104 rugged stacking mechanical architecture makes it ideal for outdoor applications in military and transportation fields.
Lite-iManager Rugged Enhancement
In order to overcome challenges from harsh environments, PCM-3363 comes equipped with Advantech's new Lite-iManager utility. There are two major functions: Extreme Cold Start and Voltage Dip Protection. Normally, operations under -40° C temperatures can lead to difficult bootup conditions; especially after long time storage. Lite-iManager performs a special function to make all components reach working temperature to guarantee 100% effective bootup. It also ensures that abnormal transient power fluctuations won't cause a system to freeze, making PCM-3363 suitable for un-manned and outdoor applications which occasionally experience unstable mains power.
18/24-bit LVDS with CRT Support
PCM-3363 has an integrated graphics core with 224 MB shared memory. This feature makes PCM-3363 capable of handling complex and intense 2D/3D graphic processing, its CRT and LVDS dual display ports also makes it suitable for applications requiring multiple display configurations or digital panel display capabilities.
Intel® Atom N455 1.66 GHz Single Core/D525 Dual Core 1.8 GHz Processor
Supports extended temperature -40 ~ 85° C
24-bit LVDS support and onboard 1 GB DDR3 800 MHz memory
HALT tested and 100% locked connector
Supports Lite iManager and embedded software APIs and Utilities