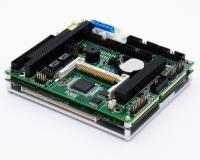 Pluto is a high performance, highly integrated board-level embedded-ready subsystem that matches the footprint of the popular ETX computer-on-module (COM) standard. The use of ETX COMs enables customers to easily extend the life of their products by replacing obsolete processors with new ones, while keeping the rest of the embedded system unchanged.
Pluto's CPU core consists of an ETX CPU module mounted on its bottom side, an approach that improves thermal management and increases the space for I/O functions and connectors. This innovative design has enabled Pluto to integrate additional serial and Ethernet controllers, a complete set of peripheral interface header connectors, and a PC/104-Plus expansion stack location – all within the compact ETX footprint.
Pluto is offered in a range of models that vary according to the choice of ETX CPU module and on-board SO-DIMM SDRAM capacity. It can be used either as a highly integrated embedded component, or as a platform for application development and reference designs.
Pluto's baseboard includes connectors and interfaces for keyboard, mouse, USB, serial, parallel, Ethernet, sound, various mass storage devices. It supports the connection of a wide variety of displays, including CRTs, 18-bit or 24-bit LVDS-interfaced flat panels, and televisions. Power is supplied by means of a robust six-pin terminal block.
ETX CPU core provides price/performance selection
Choice of Intel E3845 quad core 1.91GHz, AMD 1.65GHz G-T56N, andAMD 1.0GHz G-T40N CPUs
Up to 4GB DDR3 SO-DIMM SDRAM
4 USB 2.0 ports
4 serial ports
Dual 10/100Base-T Ethernet ports
SATA, IDE and floppy ports
CompactFlash interface
CRT, 18-bit or 24-bit LVDS LCD and TV out
PC/104-Plus (ISA & PCI) expansion bus
-20°C to +71°C and -40 to +85°C operating temperature options
ETX form factor: 4.5 x 3.7 in. (114 x 95 mm)