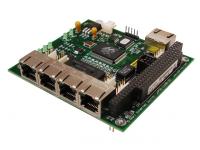 The Parvus PRV-1059 rugged VLAN-capable 5-port PC/104 Fast Ethernet switch features very low power consumption and highly reliable extended-temperature operation up to +85°C (185°F). Supporting auto-MDI-MDIX network installation, the board is designed for simple plug-and-play operation, enabling up to five embedded computing devices to be networked together using 10BaseT or 100BaseTX Local Area Network (LAN) connections.
Field programmable, port-based VLAN functionality is supported on select models. This powerful feature enables any combination of ports to be connected together in subnets for use in a small secure or non-secure network. Fully IEEE 802.3 and IEEE 802.3u compliant, its five transceiver ports are flexibly designed so that any port can serve as an uplink. The module can either be used as a standalone network switch (no processor board required) or in combination with embedded systems that support a PC/104 (ISA) bus.
The card integrates fully independent media access controllers (MACs), an embedded frame buffer memory, and a high-speed address look-up engine, along with support for auto-crossover, auto-polarity, auto-negotiation, and bridge loop prevention.
Qualified to MIL-STD-810 environmental standards, the compact PRV-1059 switch is ideally suited to space-constrained, high reliability aviation, industrial, military, and transportation applications where extreme temperature and high shock/vibration exist. The unit is only 3.550″ x 3.775″ (90×96 mm) in size. All versions include mounting holes to facilitate simple installation, as well as support for local or remote monitoring of LED activity for data RX/TX and connectivity.
Ports: 5 Auto-Crossover Ethernet/Fast Ethernet Ports
VLAN: Port-Based Field-Programmable VLAN
Supports Auto-MDI/MDIX, Auto-Negotiation and Speed Auto-Sensing
Local/Remote Ethernet: onboard RJ-45 jacks or 4-pin locking Molex headers
Standalone Capable: Can be used as a standalone network switch or in combination with an embedded system supporting a PC/104 bus
Bus or External Powering: 16-bit PC/104 Bus and 2-Pin Molex Power Header for External Power Connections
Switching: Pause Frame-Based Switch Fabric Delivers True Non-Blocking Switching; Store-and-Forward Switching Mode
Operating Temperature: -40°C to +85°C (-40°F to +185°F) per MIL-STD-810F
Power Consumption: 1.5W (+5VDC @ 0.3A typical)