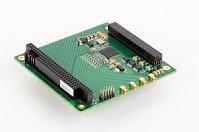 The QuadGrabber is a 4-channel video capture and overlay controller on a single PC/104-Plus card providing a simple solution for capturing four concurrent analog video inputs for local system display or software analysis and processing. The QuadGrabber allows each of the 4 video channels to be captured at full D1 size, all at full frame rate and then scaled, cropped and positioned under software control. In addition to the video capture, the QuadGrabber also provides capture of up to 4 mono audio sources. The captured video data can be streamed continuously to system memory for immediate local display or further processing. The capture engine of the QuadGrabber features hardware color space conversion to present the captured video data in the format best suited to the end application.
To minimize development risk and shorten time-to-market, the QuadGrabber comes with a set of well documented comprehensive SDKs that support standard video application interfaces such as DirectShow and Video4Linux. The SDKs are available on popular embedded operating systems such as Windows, Linux, and QNX.
Typical applications include high performance image capture, vehicle-based video capture, real-time situational awareness, law Enforcement, crime scene recording, remote video surveillance, multi-camera security application, asset monitoring, traffic monitoring and control as well as video acquisition and analytics.
Supports 4 NTSC/PAL analog video sources
4 x D1 size image capture at full frame rate
4 channel audio encoder
Arbitrary video window sizing, cropping and scaling
Windows DirectShow support
Linux Video4Linux support
Drivers for Windows XP/XP-Embedded, Linux and QNX
Low power PC/104-Plus form factor
PC/104-Plus 3.3v Add-in module
Operating temperature: 0°C to +60°C or -40°C to +85°C